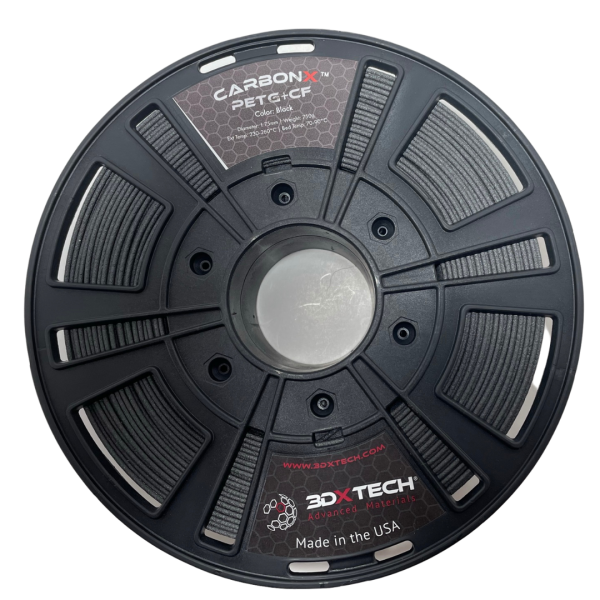 3D Printing Filament- CarbonX PETG-CF
$58.00
CarbonX PETG-CF is made from PETG with infused premium high-modulus Carbon-Fiber. This material combines excellent strength to weight ratios along with dimensional stability. PETG-CF offers ease of printing across a wide span of FDM printers. This material is ideal for applications requiring high quality surface finish and strength.
Description
Additional information
3D PRINTING FILE
DRAWING/SPECIFICATION
DESIGN TOOLS
CATALOG
Attachment
Description
Recommended Print Settings:
Extruder: 230-260°C
Bed Temp: 70-90°C
Nozzle: We currently recommend a hardened steel nozzle with a minimum diameter of 0.4mm.
Other: Ideal layer height is 60% of nozzle diameter. We do not recommend printing layers smaller than 0.2mm with carbon fiber reinforced filaments.
Bed Prep: Magigoo Bed Prep Adhesive or two layers of glue stick both work well for us.
Heated Chamber: Not required
Supports: We recommend a support material for complex parts because the carbon fiber structure material is challenging to remove if printed at a high infill percentage.
Drying Instructions: 65°C for 4 hours.
Additional information
| | |
| --- | --- |
| Weight | 0.75 kg |
| Filament Diameter | 1.75mm |
| Filament Weight | 750g |
| Color | Black |
CLICK BUTTONS BELOW TO OPEN PDF
Product Benefits:
– Low moisture absorption 3x lower the ABS
-Superior chemical resistance compared to other plastics
-Amorphous Structure, near isotropic shrinkage
Carbon Fiber Reinforcement Benefits:
– High Stiffness
-Dimensional Stability
– Excellent Strength to Weight Ratios
-Chemical Resistance
Abrasive Material:
Due to its high strength, carbon fiber possesses high abrasion characteristics. For top tool capability we recommend a 0.6mm or 0.8mm nozzle. The larger diameter with allow for higher flow rates and reduced system resistance. The increased flow rat will not only support longer nozzle life but also preserve the life of the machines feeder mechanism. With the correct program tuning this material can be printed with a 0.4mm nozzle, for excellent surface finish.
Additionally, hardened steel nozzles are the top recommendation to extend the life of the tool. The carbon fiber will wear out a soft material nozzle in a shorter period of time, leading to printing issues for poor quality printed parts.
Currently there is no catalog developed for our 3D filament products.